At Coffee#1 we love to invite as many people as possible to enjoy our delicious coffee and treats, and part of that is catering for all kinds of dietary requirements. Our quest for inclusion has led us to launch 3 plant based milk alternatives for our customers to enjoy- Soya, Coconut, and Oat- but they're not just for people who can't have dairy! Here's a few reasons why you should try one of our plant based milks in your usual coffee soon.

Flavour!
What better reason to try out soya, coconut or oat milk than the new, exciting, and scrumptious flavour they can bring to your brew? We love our soya milk in a white hot chocolate (be careful- that one still contains dairy), our coconut milk makes one delicious mocha, and our oat milk is fantastic in a flat white. But who are we to decide for you? Test your own flavour combinations!

Texture!
Some people enjoy the smooth texture of a latte, others the thick foam of a cappuccino, but have you considered the different texture of our plant based milks? Coconut has quite a thin, silky texture; oat is the most similar to whole milk once steamed; and soya can make thick, creamy foam. Why not give one a try and see how your mouth feels about it?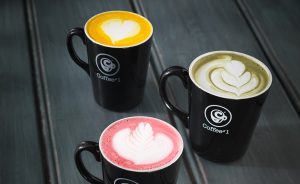 Nutrition!
We're sure that you've heard before about the health benefits of lower-fat milk alternatives and how plant based options can form part of a healthy diet, so we won't lecture you here! (Lord knows we're still partial to whipped cream on our oat milk caramel macchiato!) But the health benefits of switching your regular coffee from whole milk to a plant based option are certainly something to consider. The plant based milks we have chosen have also been specially selected because they contain as few allergens as possible. There's soya in the soya milk- we can't help that sorry- but the coconut and oat milks are allergen free*, making them safe for as many people as possible!

Adventure!
Not everyone can be Bear Grylls so we have to find little ways to be adventurous in our day to day life. Why not get a little adventurous with your morning coffee too? Change up the milk you use, add a shot of flavour, or even order something completely different for a change (We recommend the Turmeric Latte). Being a little adventurous could just lead to a laugh with your coffee friends, or- who knows- you may find a new favourite! And if you experiment goes horribly wrong, chat to your barista and they'll be sure to make you something else to replace it.
So next time you're queuing for your coffee fix, consider a plant based option and see what happens. And be sure to let us know if you find the perfect combination!
*There is the possibility of traces of nuts in the coconut milk. For more info visit our allergens page.