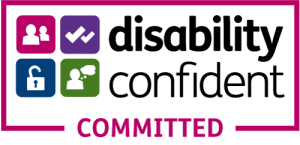 Great news! We have been successful in our application to become a Disability Confident Employer through the Department for Work and Pensions.
The Disability Confident campaign works with employers to remove barriers, increase understanding and ensure that disabled people have the opportunities to fulfil their potential. This means as a business we have committed and are currently attracting, recruiting, retaining and developing disabled people into and within Coffee#1.
To become a Disability Confident Committed employer and start our Disability Confident journey, we had to consider the 6 commitments below:
Ensure our recruitment process is inclusive and accessible
Communicate and promote vacancies to make sure potential applicants know we are an inclusive employer
Offer an interview to disabled people
Anticipate and provide reasonable adjustments as required
Support any existing employee who acquires a disability or long term health condition, enabling them to stay in work
Offer paid employment (permanent or fixed-term)
Disability Confident is creating a movement of change, encouraging employers to think differently about disability and take action to improve how they recruit, retain and develop disabled people.
We hope by being Disability Confident we can take the unique opportunity to lead the way in our communities, and discover some amazing people.
Resourcing Manager, Lucinda Mann commented:  
We are so pleased to be participating in the Disability Confident scheme and really hope that Coffee#1 can contribute to helping disabled people fulfil their potential.
I would really encourage others to sign up to the scheme, it's a great way of encouraging businesses to offer opportunities for all talented people!
If you would like to be a part of our #1 family, please visit our vacancies page. Our website is constantly updated with the latest vacancies – https://www.coffee1.co.uk/careers/